School Enterprise Challenge application form 2022 | The School Enterprise Challenge application form, requirements, eligibility, application guidelines, application deadline, how to apply online, closing date, and other opportunities links are published here on Eduloaded.com as well as on the official website/application portal.
Teach A Man To Fish School Enterprise Challenge for Schools around the World – $50,000 in prizes 2022 Application Instruction.
Don't forget that the School Enterprise Challenge application is totally free of charge.
Don't send anyone money for this opportunity.
Beware of Fraudsters!!!!
Subscribe to our notification list with your email to receive the Latest Opportunities Update.
Details of School Enterprise Challenge.
The School Enterprise Challenge is run by the educational charity Teach A Man To Fish. There is $50,000 in prizes available for the most entrepreneurial schools, teachers and students.
It guides and supports teachers and students to plan and set up real, sustainable school businesses. Students get the chance to gain hands-on experience of running a real business and generate real profits to help support their school or a social cause of their choice.
The programme empowers students to develop essential 21st-century skills in a fun and interactive way. Schools have the chance to get recognized at an international level and win prizes along the way for their outstanding work and impact.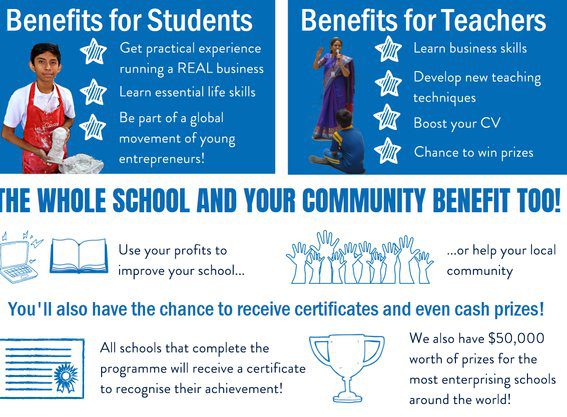 How to get involved:
Taking part is simple! The programme is open to all schools* from all countries. You can register for FREE on our website (www.schoolenterprisechallenge.org) or by clicking here.
Along the way, we will support you through:
Once registered, you will have access to all of our educational materials and your own online account to upload your submissions.
*The School Enterprise Challenge is open to primary schools, secondary schools and technical/vocational colleges. It is not open to universities.
A teacher at your school will be responsible for facilitating participation in the School Enterprise
Challenge and guiding your students to complete the 3 steps:
COMING UP WITH A BUSINESS IDEA
Using the business guides 1, 2, 3, 4 and the business idea template
WRITING A BUSINESS PLAN
LAUNCHING THE SCHOOL BUSINESS, MAKING
SALES AND WRITING AN ANNUAL REPORT
Using the business guides 5, 6, 7, 8, 9 and the business plan template
Using the business guides 10, 11, 12, 13, 14 and the annual report template
For More Information:
Visit the Official Webpage of the 2022 Teach A Man To Fish School Enterprise Challenge
Application Deadline: March 31st 2022
However, if you have any feelings regarding the School Enterprise Challenge, Please kindly drop A COMMENT below and we will respond to it as soon as possible.
BE SOCIAL BY SHARING THIS POST WITH OTHERS!!
Tags: 000 in prizes 2022 Application Instruction., Teach A Man To Fish School Enterprise Challenge, Teach A Man To Fish School Enterprise Challenge for Schools around the World – $50