Abdullah Ibrahim: Biography of Abdullah Ibrahim, Age, Wife & Songs
Abdullah Ibrahim who was born Adolph Johannes Brand on 9 October 1934 in Cape Town South Africa is a South African pianist and composer.
He attended Trafalgar High School located in Cape Town's District Six, and he began his piano lessons at the age of seven, making his professional debut at 15. Abdullah Ibrahim became well known in jazz circles in Cape Town and Johannesburg.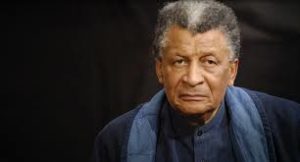 Abdullah Ibrahim Age
He was born on the 9th of October 1934 in Cape Town South Africa. As of 2019, he is 85 years old.
Abdullah Ibrahim Wife
He is married to Jazz singer Sathima Bea Benjamin and has two children New York underground rapper Jean Grae and Tsakwe.
Abdullah Ibrahim Songs
African Market
Whoza Mtwana
African Piano
Sotho Blue
In A Sentimental Mood
Manenberg Revisited
Calypso Minor
Chisa
Blues for a Hip King
Blue Bolero
Mantra Mode
Ekaya
Knysna Blue
Joan – Cape Town Flower
Tuan Guru
The Mountain
Namhanje
Pule
Tintinyana
Fats, Duke & the Monk
Mukashi
Bombella
Kalahari
Soweto
Mindif
Barakaat
For Coltrane
Bra Joe From Kilimanjaro
Bra Timing From Phomolong
Maraba Blue
Damara Blue
Song for Sathima
Abdullah Ibrahim Video
SHARE THIS POST WITH OTHERS: