Brenda Fassie: Biography of Brenda Fassie, Son, Vuli Ndlela, Albums, Songs & Death
Brenda Fassie whose full name is Brenda Nokuzola Fassie was born on the 3rd of November 1964 in Langa, Cape Town in South Africa.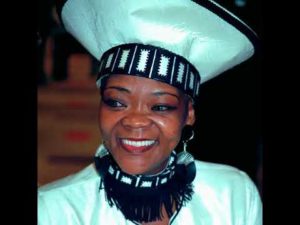 She died on the 9th of May 2004. She was an anti-apartheid Afropop singer. Her musical career began at an early age since her mother was a pianist she started singing for tourists at an early age.
In 1981 at the age of 16, she joined the vocal group Joy (filling in for one of the members who was on maternity leave) and later became the lead singer for a township music group called Brenda and the Big Dudes.
Around 1991 when he divorced her husband she became addicted to cocaine and had a setback in her career.
In 1995 she was discovered in a hotel with the body of her female lover, Poppie Sihlahla, who had died because of an apparent overdose. She underwent rehabilitation and got her career back on track.
From 1996 she released several solo albums, including Now, Is the Time, Memeza (1997), and Nomakanjani?.
Most of her albums became multi-platinum sellers in South Africa; Memeza was the best-selling album in South Africa in 1998.
SHARE THIS POST WITH OTHERS: