Official List of Edu College Courses 2023 available For Undergraduate, Postgraduate, Certificate, Diploma, Short Courses, and Distance Learning Programmes.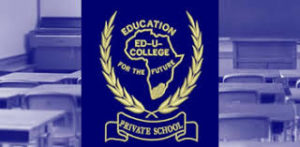 Edu College courses offered 2023, Edu College admission entry requirements, Edu College online application 2023, Edu College prospectus 2023, Edu College application fees for 2023 Intake.
All candidates seeking admission to study at the Edu College For 2023 are hereby direct to check the list of available programs (courses) that has gained accreditation before submitting an application.
List of Courses Offered at Edu College 2023
Certificate in Tourism (Tourism )
Certificate in Art and Design(Art and Design)
Certificate in Business Management(Business Management)
Certificate in Public Relations(Public Relations)
Certificate in Human Resource Management(HRM)
Certificate in Marketing(Marketing)
Certificate in Financial Management(Financial Management)
Certificate in Public Management(Public Management)
Certificate in Project Management(Project Management)
New Venture Creation(New Venture Creation)
Certificate in Educare(Educare)
Certificate in Hospitality and Catering Services(Hospitality and Catering Services)
Certificate in Hair Care(Hair Care)
Networking Fundamentals
Certificate in MS Word
Certificate in Generic Management
Certificate in Occupationally Directed Education and Training Development Practices
Microsoft Powerpoint
Certificate in Ms Excel
Certificate in Internet Use
Microsoft Outlook
National Certificate in Popular Music Performance
National Certificate in IT End User Computing
National Certificate in Labour Relations Practice
Short Course in Microsoft Windows Operating Systems Fundamentals
HTML & CSS Course
Access 2016 Core
Microsoft PowerPoint 2013 Course
Microsoft Office Outlook 2013 Course
Security Fundamentals Course
HTML5 Application Development Fundamentals
Microsoft Office Outlook 2016
Microsoft Office 365/2019
Microsoft Office Specialist (MOS) 2016 Certification Expert
FET Certificate in New Venture Creation NQF L4
FET Certificate in Generic Management NQF L4
Further Education and Training Certificate in Project Management
Further Education and Training Certificate in Information Technology, Technical Support
National Certificate in 3D Animation and Visual Effects
Further Education and Training Certificate in Early Childhood Development
Further Education and Training Certificate in Information Technology (Systems Development)
Certificate in Basic PC Skills / Windows
System Development 1
System Development 2
Technical Support I
National Certificate in Music Industry Practice
Technical Support II
Further Education and Training Certificate in Performing Arts
Digital Office Administrative Associate
Digital Office Administrative Expert
IC3 Digital Literacy Certification
Intuit Quickbooks
IT Web Designer/Developer
Microsoft Digital Literacy
Microsoft IT Technician Courses
Microsoft Office Specialist Access 2013
Microsoft Office Specialist Excel 2013
Microsoft Office Specialist Excel 2019
Microsoft Office Specialist Outlook 2019
Microsoft Office Specialist PowerPoint 2016
Microsoft Office Specialist PowerPoint 2019
Microsoft Office Specialist Word 2013
Introduction to Programming Using Java
Introduction to Programming Using Python
Mobility and Device Fundamentals
Server Administration Fundamentals
Software Development Fundamentals
SHARE THIS POST WITH OTHERS!
Tags: Edu College | www.educollegevaal.co.za, Edu College courses, Newly List of Courses Offered at Edu College 2023