Godrich Gardee: Biography of Godrich Gardee, Age, Wife, Parents & Family
Godrich Gardee is a South African politician who is also a member of Economic Freedom Fighters. He is currently the Commissar responsible for Mobilisation, Campaigns, and Special Projects of the Economic Freedom Fighters (EFF).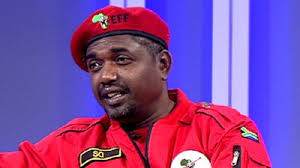 He holds a Higher National Diploma in Accounting and Auditing. In May 2018, He obtained his LLB degree from the University of South Africa (UNISA), Pretoria campus.
Godrich Gardee Age
Godrich prefers to keep his life private away from the public and therefore his date of birth is not known. We will get to update this page later when we have details on his age and date of birth.
Godrich Gardee Family – Godrich Gardee Parents
He lost his brother who was Solomon Mbatha and was buried on December 5, 2015, in Nelspruit. They held his last service at White River Municipality Hall which is opposite the Police Station and he was laid to rest at the Rockys Drift Cemetry.
Godrich Gardee Wife
Just as we earlier stated, Godrich is a very private man who doesn't like to keep his private life in the spotlight. Many details about his wife and children are not known.
Godrich Gardee Positions Held
Currently
Member at Standing Committee on Appropriations (Committee) since June 2014
Member at National Assembly (Parliament) since 21st May 2014
Member at Economic Freedom Fighters (EFF) (Party)
Formerly
Member at Rules of the National Assembly (National Assembly Committees) from June 2014 until 14th May 2015
Member at Portfolio Committee on Home Affairs (National Assembly Committees) from June 2014 until 10th March 2015
Member-elect at National Assembly (Parliament) from 16th May 2014 until 21st May 2014
6th Candidate at Economic Freedom Fighters National Election List 2014 (Election List) from 22nd April 2014 until 7th May 2014
Godrich Gardee Contact Details
Tel: 082 370 8402/ 021 403 8895.
Godrich Gardee Twitter
SHARE THIS POST WITH OTHERS:
Tags: Godrich Gardee Age Godrich Gardee Family – Godrich Gardee Parents Godrich Gardee Wife Godrich Gardee Positions Held Godrich Gardee Contact Details Godrich Gardee Twitter