Official List of Goldfields TVET College Courses 2022 available For Undergraduate, NCV, NATED, Certificate, Engineering, Diploma, Degree, Short Courses, and Distance Learning Programmes.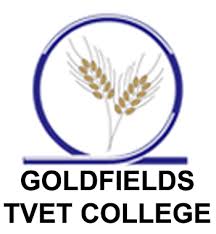 Goldfields TVET College courses offered 2022, Goldfields TVET College admission entry requirements, Goldfields TVET College online application 2022, Goldfields TVET College prospectus 2022, Goldfields TVET College application fees for 2022 Intake.
All candidates seeking admission to study at the Goldfields TVET College For 2022 are hereby direct to check the list of available programs (courses) that has gained accreditation before submitting an application.
List of Courses Offered at Goldfields TVET College 2022
1. NATIONAL CERTIFICATE VOCATIONAL (NCV) COURSES
The learner will gain a broad range of knowledge and practical skills required in a certain industry. The learning duration is usually 3 years. The minimum admission requirement is Grade 9. Courses offered under this category include the following.
BUSINESS STUDIES
Marketing
Office Admin
Hospitality NCV
Finance, Economics and Accounting
Tourism Management
Transport and Logistics
ENGINEERING STUDIES
Civil Engineering and Building Construction
Electrical Infrastructure Construction
Engineering and Related Design
Drawing Office Practice
Information Technology and Computer Science
2. NATED/REPORT 191 COURSES
Students will have 18 months of theoretical studies at the institution and another 18 months of relevant practical application in workplaces. The minimum admission requirement is Grade 9 for N1 and Grade 12 for N4 admission. The following are some of the courses under this category.
BUSINESS STUDIES
Business Management
Marketing Management
Management Assistant
Financial Management
Human Resource
Educare
ENGINEERING STUDIES
Electrical Engineering
Civil Engineering
Mechanical Engineering
3. OCCUPATIONAL PROGRAMMES
Goldfields TVET College offers the following occupational courses.
SHORT SKILLS
Bricklaying
Electrical
Welding
Plumbing
Carpentry
Painting
Plastering
Community Development
Young Leadership Development Programme
LEARNERSHIPS
Early Childhood Development Level 4 and Level 5
Building and Civil Construction Level 3
Community House Building Level 2
Construction Roadworks Level 2
School Business Administrations Level 5
End-User-Computing Level 3
Welding Applications and Practices Level 2
Occupationally Directed Education and Training Development Practices Level 5
Public Administration Level 4
APPRENTICESHIPS
Electrical under Skills Development Practitioner (SDP)
Welding – SDP
Boiler – SDP
Plumbing – SDP
Hairdressing ARPL under Trade Test Centre (TTC)
4. CENTRE FOR ENTREPRENEURSHIP
The centre is based at Goldfields TVET College Tosa Campus. It was founded in 2017 to help young people focus on being job creators rather than job seekers. The institution specialises in Renewable energy and generic. The programme targets the following groups.
Goldfields TVET College unemployed dropouts
Goldfields TVET College unemployed alumnus
Existing N3 to N6 electrical engineering students
Existing NCV Level 4 electrical engineering students
Local Youth SMME's and Youth informal traders.
SHARE THIS POST WITH OTHERS!
Tags: Goldfields TVET College | www.goldfieldsfet.edu.za, Goldfields TVET College courses