Official List of IHT Hotel School Courses 2024 available For Undergraduate, Postgraduate, Certificate, Diploma, Short Courses, and Distance Learning Programmes.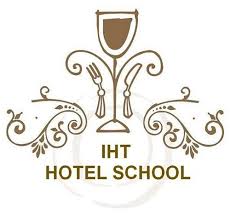 IHT Hotel School courses offered 2024, IHT Hotel School admission entry requirements, IHT Hotel School online application 2024, IHT Hotel School prospectus 2024, IHT Hotel School application fees for 2024 Intake.
All candidates seeking admission to study at the IHT Hotel School For 2024 are hereby direct to check the list of available programs (courses) that has gained accreditation before submitting an application.
List of Courses Offered at IHT Hotel School 2024
The IHT Hotel School offers a wide variety of full-time courses as listed below:
Diploma in Hospitality Management
Level: Diploma (registered on NQF Level 6; SAQA ID: 63169)
Qualification: Diploma in Hospitality Management
Duration: 3 years
Intakes: January and June
This full-time three-year programme aims to equip students with the necessary knowledge and skills to work in supervisory and management positions in the various sectors of the Hospitality Industry.
This programme offers students comprehensive academic education together with hands-on skills training. The Diploma in Hospitality Management provides students with an academic qualification that will equip them with the necessary skills and abilities to enter the workplace with confidence and become attractive to potential employers in the hospitality and tourism industry.
IHT graduates are well sought after for various positions across a wide range of hospitality as well as private business sectors from Guest Houses, Hotels, Restaurants, Conference and Exhibition Centers, Event Management Companies, Luxury Cruise liners and Game Lodges.
Theory classes in this programme are facilitated by passionate lecturers that use various teaching methods to facilitate learning. This include self study, industry related guest speakers, various exciting video material and also subject related field trips.
The Hospitality Management programme has three academic periods:
Year I:
January – October: Theory classes on campus
Year II:
November – April: Internship in industry
June – December: Theory classes on campus
Year III:
January – July: Theory classes on campus
August – December: Final industry internships
SHARE THIS POST WITH OTHERS!