Muhimbili University of Health and Allied Sciences MUHAS Research Dissemination Symposium call for applications.
The Deputy Vice-Chancellor for academic research and consultancy invites researchers, practitioners, policymakers, and implementers to attain this symposium. We extend invitation to researchers and students of MUHAS and other universities, Ministry responsible for health, UN organizations, Implementing partners, funding agencies, Tanzania Drug Control & Enforcement authority, Practitioners, from public and private hospitals in Tanzania.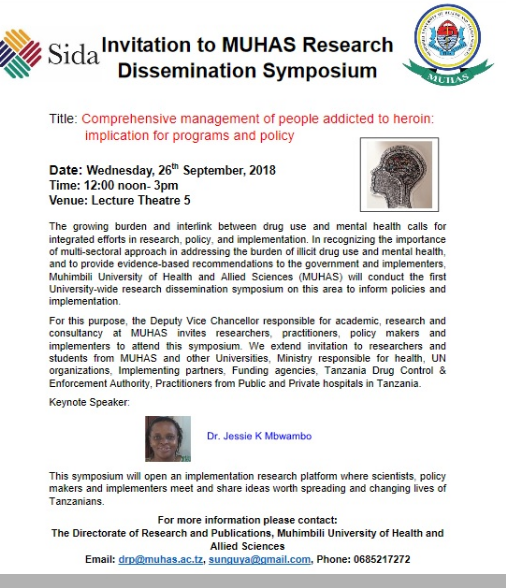 If you can't see it clearly, Click here for a better view.
Invitation to MUHAS Research Dissemination Symposium Schedule
Date:Wednesday,26th September 2018
Time:12:00 Noon – 3.00 PM
Venue:Lecture Theatre 5
Title: "Comprehensive management of people addicted to heroin:implication for programs and policy"
Keynote Speaker: Dr. Jessie K Mbwambo
For further details click