Julius Malema Biography, Age, Wife, Net Worth, Speech & News
Julius Malema (born 31 March 1981 in Seshego) whose full name is Julius Sello Malema is a South African politician and the founder and leader of the EFF.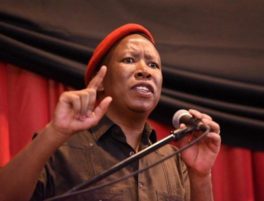 His alma mater is The University of South Africa and he served as President of the African National Congress Youth League from 2008 to 2012.
| | |
| --- | --- |
| Full Name | Julius Sello Malema |
| Date of Birth | 3 March 1981 (age 40 years old) |
| Gender | Male |
| Spouse | Mantwa Matlala |
| Occupation | Politician |
| Nationality | South African |
| Net Worth | R40 million |
Julius Malema Age
He was born on the 31st of March 1981 in Seshego, South Africa. As of 2021, he is 40 years old.
Julius Malema Wife
In 2014 Julius Malema tied the knot with his longtime girlfriend and together they had a son called Munzhedzi in 2016. His wife's name is Mantwa Matlala and he has 3 sons.
Julius Malema Net Worth
He is believed to have an estimated net worth of around $2 Million.
Contact Details
EFF National Office
Physical Location: 78 De Korte, Braamfontein, Johannesburg
Tel: 011 403 2313
Fax: 011 403 2264
Julius Malema Hate Speech
On 15 March 2010, Julius Malema was convicted of hate speech by the Equality Court of South Africa, fined R50 000, and ordered to apologise unconditionally.
This was following a 2009 incident when he told a group of Cape Town students at a South African Students' Congress (SASCO) meeting that the woman who accused President Zuma of rape had a "nice time" with him because in the morning she had "requested breakfast and taxi money".
In March 2010, at a rally on a university campus, Malema sang the lyrics "shoot the Boer" (Dubul' ibhunu) from the anti-apartheid song "Ayasab' amagwala" (the cowards are scared). "Boer" is the Afrikaans word for "farmer" but is also used as a term for any white person.
His singing was compared to similar chants by deceased Youth League leader Peter Mokaba in the early 1990s, to "kill the boer", which had previously been defined as hate speech by the South African Human Rights Commission.
In April 2011 Afriforum brought a case of hate speech against Malema in regard to the song and several notable ANC figures such as Winnie Madikizela-Mandela and secretary-general Gwede Mantashe supported him in the court battle.
Aggressive and patronizing questioning of black witnesses by lawyers for the Afrikaner groups bringing the suit reportedly allowed Malema to portray himself as a victim of white persecution. On 12 September 2011, Malema was convicted of hate speech.
Video
Julius Malema House
EFF leader Julius Malema's wife and children live in a luxurious house owned by alleged tobacco smuggler Adriano Mazzotti.
The house is reportedly situated in a high-security Hyde Park estate and is owned by Mazzotti.
Julius Malema's house has been sold for R1.45-million to an ANC member
Twitter
That's all regarding the Biography of Julius Malema, kindly Drop a Comment below and we will respond to it as soon as possible.
SHARE THIS POST WITH OTHERS:
Tags: Julius Malema Age Julius Malema Wife Julius Malema Net Worth Contact Details Julius Malema Hate Speech Video Julius Malema House Twitter