Katlego Danke Biography, Age, Husband, Baby, Career & News
Katlego Danke is a popular South African radio DJ and actress. She has a BA degree in Theatre and Performance from the University of Cape Town and is famous for her role as Dineo Mashaba in the soapie 'Generations'.
Katlego has done commercials for Vanish, Clover, Klipdrift Brandy, Honda and she was also the face of the campaign for The Pond's Passport to Success (2007). She gave birth to a baby boy in 2017.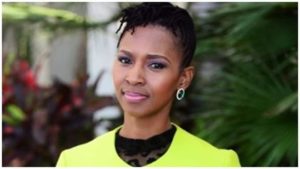 Age
She was born on the 7th of November 1978 in North West in South Africa. As of 2019, she is 41 years old.
Television Roles and Films
What's Bothering Marc Lottering on SABC3
SABC2's Afrikaans soapie 7de Laan
Backstage as Keketso
Elna Liebe in Afrika as Sophia.
Generations as Dineo Mashaba
Isidingo as Kgothalo.
Theatre
Beyond The Veil.
The House of Kalumba.
The Town that was Mad (based on Under Milkwood)
King Lear.
The Suit.
Miss Tertiary Feel.
The opera performance of Macbeth.
Awards
Throughout her acting career, she has various awards to herself. She was nominated Best Screen Villain in the Duku-Duku 2004 Awards, and Best Dressed Actress in 2009 at the South African Film and TV Awards. In 2010 she was nominated for a YOU Spectacular award for Favourite Actress.
Facebook
Twitter
Instagram
View this post on Instagram
Katlego Danke News
Katlego Danke faces house being repossessed
Source: SowetanLive.co.za
Lotto presenter and Isidingo actress Katlego Danke appears to be struggling to phanda money to pusha her bond payment.
Danke, who is playing a cunning businesswoman in the SABC3 soapie, is about to be kicked out of her house by First National Bank (FNB) after she allegedly failed to keep up with her monthly bond instalments.
According to papers filed at the Johannesburg High Court two weeks ago, Danke, who is cited as the defendant, entered into a mortgage loan agreement with the bank in August 2005 in which she was loaned R447,600 to purchase the property in Randburg, north of Joburg.
The bond was registered together with an additional loan of R90,000, shooting her loan to over half a million rand.
In terms of the loan agreement, the revered thespian, who played Dineo Mashaba on SBC 1 soapie Generations, was expected to pay just under R4,000 in monthly instalment.
But Danke allegedly defaulted on her bond repayments more than 10 years later and was now over R21,000 in arrears.
The bank's lawyers Lowndes Dlamini Attorneys sent her a letter of demand to settle her arrears but she allegedly ignored it.
"Due notice was given in terms of section 129 of the Act, at least 10 days lapsed since the notice was given to the defendant. The defendant failed to respond to the respective notice alternatively, no arrangement or proposals were made or reached as contemplated under section 130(1)(b) of the Act," read the papers.
The bank has pleaded with the court to give it a writ of execution to attach the house and auction it off to recoup its money.
Katlego Danke took over half a million home loan with FNB for her home in Ferndale, Randburg.
It has already sent evaluator Thembelani Makhubela to the property, who submitted a report which stated that although the house appeared to be falling apart, its market value was R950,000 and could be sold within six months.
Makhubela also indicated that they were denied access to the property by the occupants of the property.
"Contact person said they were busy and cannot speak to me, and does not know when they will be available. The dwelling appears to be in need of general maintenance (painting of dwelling) from the back view, which is visible from the street, outside the estate," he said.
He further said R50,000 was needed to renovate the property before it could be sold.
Tersia Fitchet of Lowndes Dlamini Attorneys confirmed that they were acting on behalf of FNB and said they dragged the former Backstage actress to court.
"We have not received any papers from her to oppose the application, because nothing reflects in our system," she said.
That's all regarding the Biography of Katlego Danke, kindly Drop a Comment below and we will respond to it as soon as possible.
SHARE THIS POST WITH OTHERS:
Tags: Television Roles and Films Theatre Awards Facebook Twitter Instagram Katlego Danke News Katlego Danke faces house being repossessed