Koos Bekker Biography, Age, Wife, Profile & Net Worth
Koos Bekker (born 14 December 1952) is a South African billionaire businessman and the chairman of the media group Naspers.
He had a childhood as a farm boy in the town of Heidelberg, Gauteng Province, South Africa.
The company which operates in over 100 countries, is listed on the London and Johannesburg Stock Exchanges and has the largest market capitalization of any media company outside the US and China.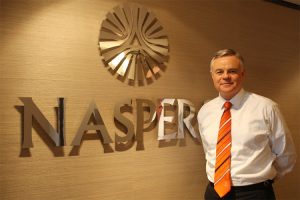 Koos Bekker Age
He was born on the 14th of December 1952 in Potchefstroom, South Africa. As of 2019, he is 67 years old.
Koos Bekker Wife
He is married to Karen Roos and together they have 4 children.
Koos Bekker Education
He had his secondary education at Hoer Volkskool Heidelberg, South Africa. Afterward, he earned a BA in Literature and BA Law from Stellenbosch University in the year 1972 and 1975 respectively.
He then bagged an LLB from the University of Witwatersrand in 1978 and an MBA degree from the Columbia Business Administration, in 1984.
Awards And Recognition
World Entrepreneurship Hall of Fame, World Entrepreneur Awards
Best Entrepreneur, Ernst & Young/Rand Merchant Bank
Lifetime Achievement Award, Business Times
Honorary Doctorate in Commerce, University of Stellenbosch
Appointed Member of Board, University of Stellenbosch, 2000 – present
1008 wealthiest person in the world, Forbes Rich List 2019
4 Wealthiest South African with a fortune of US$2.3 billion, Forbes, 2019
11 Africa's billionaire, Forbes 2020
Net Worth
As of 2019, Koos Bekker has a net worth of $2.3 billion making him one of the richest men in Africa.
He is also part of the list of top ten richest people in South Africa, holding the third position. Koos Bekker's net worth now stands at USD 2.3 billion.
Koos Bekker Quotes
"For a group to be great, both good governance and excellent execution are required. It's not one or the other."
"Entrepreneurship is a little bit like farming when you start you do everything, you make a team, you do the Photostats machine and as the business grows, it diversifies but certainly, the improvisation of a farm is extremely useful in business."
"In business, one should never take anything for granted. Your fortune can change in five minutes."
"The CEO is the captain of the ship; he makes the executive decisions fast and with enough authority to sail the ship. A non-executive chairman is more… a strategic figure in the background."
"The pace of technological change is still accelerating. Innovation never stops."
"Currently, e-commerce is the segment of our internet business which is growing the fastest and it will remain that way for the foreseeable future."
"Naspers has made a huge investment in e-commerce during the last few years, some of which is still developing to its fullest potential."
That's all regarding the Biography of Koos Bekker, kindly Drop a Comment below and we will respond to it as soon as possible.
SHARE THIS POST WITH OTHERS: