Lindelani Mkhize Biography, Wife, Albums & Songs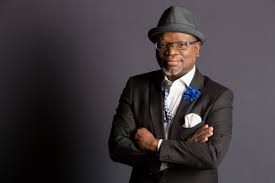 A founding member of the joyous celebrations, Lindelani Mkhize is a South African producer known for his work with jazz, Afro-pop, kwaito, and gospel musicians.
Career
Lindelani Mkhize has been a lead figure in the reality talent competition 'I Want to Sing Gospel' since 2008. The winner of the competition receives a recording deal with Mkhize's label, Lindelani Mkhize Entertainment.
In 2012 he was announced as one of the three judges for the Mzansi Magic reality competition Clash of the Choirs South Africa, which aired in 2013.
Wife
He is married to Nhlanhlo Mkhize.
Albums
2010: Joyous Celebration 14
2012: Joyous Celebration 5
1997: Joyous Celebration 1
2005:Joyous Celebration 9
1998: Joyous Celebration 2
2009: Joyous Celebration 10
1999: Joyous Celebration 3
2016: Joyous Celebration, Vol. 20
2015: Joyous Celebration, Vol. 19 (Back to the Cross)
2017: Joyous Celebration 21: Heal Our Land (Live)
2009: Joyous Celebration 11: Live At The Sun City Superbowl
Lindelani Mkhize Songs
Hallelujah Nkateko
Uyalalelwa
Ngobekezela
Ntate ke Mang
Siyabonga Jesu
Hi Hanya Mahala
Bhekani UJehova
Unkulunkulu Wezimanga
Itshokwadi
Na Ma Ta
Tshala
Ngizolibonga
Kuregerera in Advance
Ngino Jesu Medley
Namhla Nkosi
Umbhedesho
Modimo Ali Teng
Umoya Praise Medley
Baleka
Ngena Nawe
Hakuna Zvinorema
Bengingazi
Entabeni Ekude
Ngiphete Ungqo
Phindúkhulume
Wasara Wasara
Zulu Worship
Kuligugu Kimi
Who Am I
Bawo Ndixolele
Webangcwele
Ngingowakho
That's all regarding the Biography of Lindelani Mkhize, kindly Drop a Comment below and we will respond to it as soon as possible.
SHARE THIS POST WITH OTHERS: