Official List of Lyceum College Courses 2023 available For Undergraduate, Postgraduate, Certificate, Diploma, Short Courses, and Distance Learning Programmes.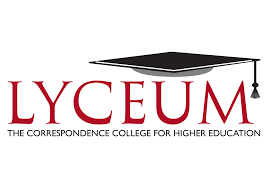 Lyceum College courses offered 2023, Lyceum College admission entry requirements, Lyceum College online application 2023, Lyceum College prospectus 2023, Lyceum College application fees for 2023 Intake.
All candidates seeking admission to study at the Lyceum College For 2023 are hereby direct to check the list of available programs (courses) that has gained accreditation before submitting an application.
List of Courses Offered at Lyceum College 2023
LYCEUM COLLEGE UNDERGRADUATE COURSES
FACULTY OF COMMERCE AND LAW
Bachelor of Commerce in Management
Diploma in Management
Diploma in Public Administration
Higher Certificate in Credit Management
Higher Certificate in Financial Management
Higher Certificate in General Management
Higher Certificate in Human Resource Management
Higher Certificate in Marketing & Sales Management
Higher Certificate in Office Management
Higher Certificate In Paralegal Studies
Higher Certificate in Paralegal Studies in Commercial Practice
Higher Certificate in Public Relations
Higher Certificate in Small Business Management
FACULTY OF EDUCATION
Diploma in Grade R Teaching
Early Childhood Development (ECD)
FACULTY OF SAFETY AND CRIMINAL JUSTICE
Advanced Diploma in Traffic and Metropolitan Policing
Bachelor of Administration in Licensing Practice
Bachelor of Arts in Disaster and Safety Management
Diploma in Criminal Justice
Diploma in Metropolitan and Traffic Policing
Higher Certificate in Criminal Justice
Higher Certificate in Incident Management
Higher Certificate in Law Enforcement in Media Relations
Higher Certificate in Law Enforcement in Supervision
Postgraduate Diploma in Traffic Policing
Short Learning Programme in Addressing Gangs and Violence
Short Learning Programme in Managing Police Liability Issues
Short Learning Programme in Managing Police Media Relations
Short Learning Programme in Managing the Patrol Function
FACULTY OF FLEET AND OPERATIONS
Advanced Certificate in Project Management
Diploma in Fleet Management
Higher Certificate in Fleet Management
Higher Certificate in Operations Management
Higher Certificate in Project Management
Higher Certificate in Supply Chain Management
Higher Certificate in Total Quality Management
SHARE THIS POST WITH OTHERS!
Tags: List of Courses Offered at Lyceum College 2023, Lyceum College | www.lyceum.co.za, Lyceum College Courses