Work in Canada Vacancy Application at Maintenance Supervisor (Day Shift) O-I Brampton, Ontario Ongoing in Canada | How to Apply Online.
The Maintenance Supervisor (Day Shift) O-I Brampton, Ontario recruitment application form, requirements, eligibility, available positions, qualifications needed, application guidelines, application deadline-closing date, and other job updates in Nigeria are published here on Eduloaded.com for free.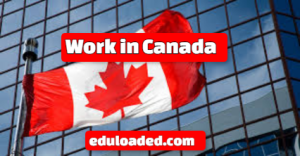 Maintenance Supervisor (Day Shift) O-I Brampton, Ontario Work in Canada Vacancies
NOTE:
Don't forget that Maintenance Supervisor (Day Shift) O-I Brampton, Ontario recruitment is totally free of charge.
Don't send anyone money for this recruitment opportunity.
Beware of Fraudsters!!!!
Subscribe to our notification list with your email to receive the Latest Work in Canada Update.
Details of Maintenance Supervisor (Day Shift) O-I Brampton, Ontario Work in Canada Vacancy Position & How to Apply.
Company DescriptionWho we are: Remember the last time you opened a bottle of champagne? A cold beer after a hard day's work or a bottle of sparkling mineral water to quench your thirst? Well, it was probably made by us. We are O-I and we love that we make more glass containers than anyone in the world. O-I has more than a century of experience crafting pure, sustainable, brand-building glass packaging for many of the world's best-known food and beverage brands. We are proud to provide high-quality glass packaging for beer, wine, spirits, food, non-alcoholic beverages, cosmetics and pharmaceuticals. Why do you want to apply?  Our Brampton plant is located in the greater Toronto area, about 40 minutes from downtown. It's an exciting time at this facility as we are growing and investing in new equipment and new technology. The future is bright at Brampton. Job DescriptionThis is a general maintenance position responsible for maintenance across the plant during the day shift. The Maintenance Supervisor Will
Oversee the general maintenance of the plant
Engage a team of qualified employees to keep equipment running
Assist in directing preventive maintenance programs and implementing corrective actions
Supervise training of personnel (electrical and electronics)
The Maintenance Supervisor Should Have
Strong industrial electrical background, experience with automation and electronics is a plus
Experience supervising and leading maintenance teams
Experience working in a union environment
Strong desire and drive to learn
Excellent interpersonal and communication skills
Qualifications
High School diploma required
Certificate of Qualification (422A or 309A) or Bachelor's degree in Electrical Engineering preferred
3 years minimum of experience supervising people and maintenance in a manufacturing facility
Must be authorized to work in Canada on a full-time basis without requiring Visa sponsorship for employment now or in the future.Additional InformationWhat We Offer:
Competitive compensation
Opportunity for future growth and advancement
DC Pension Plan (3% Base company contribution and optional employee/company match component)
Comprehensive benefits package
Paid time off
and much more…
Additional informationAll your information will be kept confidential according to EEO guidelines.O-I is an Equal Opportunity and Affirmative Action Employer committed to building a diverse, equitable and inclusive culture. All qualified applicants will receive consideration for employment without regard to race, color, religion, sex, sexual orientation, gender identity, national origin, disability, veteran status or another protected category. Qualified individuals with disabilities or disabled veterans who are unable or limited in their ability to apply on this site may request reasonable accommodations by emailing [email protected].
However, if you have any Feelings regarding the Maintenance Supervisor (Day Shift) O-I Brampton, Ontario Job Recruitment, Please kindly DROP A COMMENT below and we will respond to it as soon as possible.
Please help others by sharing this post on any social media.