Mbeya University of Science and Technology Library Overview.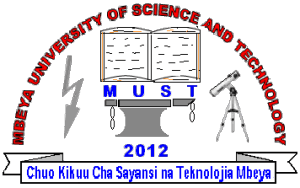 MUST library provides resources and services to students, staff and the university community. Resources offered by library are text books in both print and electronic format. It also provides the e-journal services. Resources offered cater for all courses taught at the university which include: Architecture technology, Civil engineering, Computer engineering, Electrical and electronic engineering, Laboratory technology, Mechanical engineering and Business management.
Electronic journal service is offered through subscription to various international journal databases as well as through Open Access (OA).
Currently the library occupies part of the administration block in the ground floor and the first floor. The first floor part is reserved for general collection while the ground floor part is reserved for special reserve materials. In both floors there are study spaces.
The library is among academic units of the Mbeya University of Science and Technology (MUST). The major mission is to provide high quality information services, which support teaching, learning, research, and consultancy services to the community. In addition to the traditional library services, MUST library present a holistic e-service to its clients, including e-books and e-journals.
For any query, please use the contacts below to reach us:
Mbeya University of Science and Technology
P.O BOX 131
Mbeya, Tanzania.
Tel: +255 (0)25 2503016
E-mail: [email protected]