Shona Ferguson: Biography of Shona Ferguson, Age, Husband, Career & Contact Details
Mmamoloko Kubayi is a popular South African politician who is the Minister of Science and Technology. She attained her current position after having brief stints as the Minister of both Communications and Energy. Kubayi has also served as Chairperson of the Portfolio Committee of Telecommunications and Postal Services.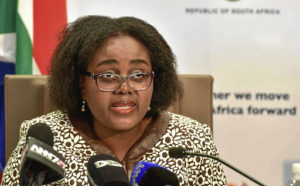 Mmamoloko matriculated from Thusa Setjhaba High School and she has a degree in Vista University, Soweto campus.
Mmamoloko Kubayi Age
Her date of birth and age is not known as she prefers to keep her private life away from the public.
Mmamoloko Kubayi Husband
She is married to Joel Sihle Ngubane. Her husband wanted to look like a pilot on their wedding day so he wore a unique combination of an airforce pilot's wings and a sailor's cap.
Mmamoloko Kubayi Positions Held
Minister of Science and Technology at National Executive (Executive) since 26th February 2018
Constituency Contact at ANC Constituency Office (132): Mabopane (Constituency Office) since 21st May 2014
Member at National Assembly (Parliament) since 21st May 2014
Member at African National Congress (ANC) (Party)
Minister of Communications at National Executive (Executive) from 17th October 2017 until 26th February 2018
Minister of Energy at National Executive (Executive) from 30th March 2017 until 17th October 2017
Chairperson at Portfolio Committee on Telecommunications and Postal Services (National Assembly Committees) from June 2014 until 30th March 2017
Member at Ad Hoc Committee on Police Minister's Report on Nkandla (Ad Hoc Committees) from June 2015 until 6th August 2015
Member-elect at National Assembly (Parliament) from 16th May 2014 until 21st May 2014
15th Candidate at African National Congress Regional Gauteng Election List 2014 (Election List) from 22nd April 2014 until 7th May 2014
Member at National Assembly (Parliament) from 6th May 2009 until 6th May 2014
Member at Rules of the National Assembly (National Assembly Committees) until 6th May 2014
Whip at National Assembly (Parliament) until 6th May 2014
Member at Private Members' Legislative Proposals and Special Petitions (National Assembly Committees) until 6th May 2014
Mmamoloko Kubayi Contact Details
Tel: 083 424 6529/ 012 406 7612.
Fax: 012 444 4505
Email: [email protected]'
SHARE THIS POST WITH OTHERS:
Tags: Mmamoloko Kubayi Age Mmamoloko Kubayi Husband Mmamoloko Kubayi Positions Held Mmamoloko Kubayi Contact Details