Download Mbeya University of Science and Technology MUST Joining Instruction 2022/2023 pdf.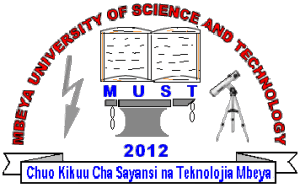 MUST JOINING INSTRUCTIONS FOR ORDINARY DIPLOMA STUDENTS UNDER GOVERNMENT SPONSORSHIP 2022/2023
I am pleased to inform you that you have been selected to join MBEYA UNIVERSITY OF SCIENCE AND
TECHNOLOGY (MUST) in the academic year 2022/2023 under Government Sponsorship. However, to qualify for Government Sponsorship you will have to agree with the conditions for Government Sponsorship as stipulated in the Declaration Form, which is enclosed for you to fill correctly and submit during registration. You will pursue Ordinary Diploma Course as indicated in our advertisement in the website or newspaper.
N.B.
(a) Registration will not be done unless the above documents are submitted.
(b) During registration and the entire period of the course, the University shall not entertain any change
of names.
(c) Incomplete fulfillment of requirement for registration will result into all or any of the following:-
 Not being accepted for studies and/or
 Termination of studies (for continuing students)
(d) Registration period is within the first two weeks (15/10/2018 – 29/10/2018). No registration shall
be done after the second week.
(e) Please make sure you pay the correct fee am
Download MUST Joining Instruction pdf.
However, if you have any Suggestion, Correction regarding the MUST Joining Instruction 2022/2023, Please kindly DROP A COMMENT below and we will respond to it as soon as possible.
Don't hesitate to like our social platforms in order to share, discuss & get the latest updates about the institution.
 >>> Be Social By Sharing this post via the Sharing Button Below <<<