Mzekezeke: Biography of Mzekezeke, Age, Songs & Album
Mzekezeke whose real name is Zakhele is a South African Kwaito musician, DJ, and radio personality. He was born in Tembisa in a family of six children and is popularly known for his trademark mask and orange overall.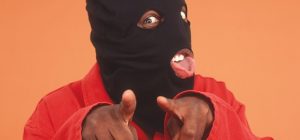 Mzekezeke Age
We do not know of his date of birth, therefore his age is not also known.
Mzekezeke Songs
Important People – Feat Sash of Iz'nyoka
Amakoporosh
guqangama dolo
Guqangama
Akekh'ugogo
Bhelela (Guqa House Remix)
Amajimbos (Instrumental)
Ezasekasi
Uph'uMzeke
Gandaganda
Intro
Ubani uMzekezeke
izinyoka
Important People
Mzekezeke – 13 – Ezasekasi – Kwaito
Ub'dadada
Kham Gerala
Abafazi
Istorotoro
Outro – Umthandazo
Abangan Bam
Tembisa
Ezisnaks
Uph'umzeke?
Amakoporosh (Remix)
Kham Gerela (Interlude)
Mzeke I Am Scared Of You
uMthandazo
Song 4 U
Nomasonto
Bhelela
Ngihambha Phantsi
Laugh 4 Nothing
Tribute To The Dark City Sisters
Ama B.E.E.
Fosta Njengo Mzekezeke
Happy summer song
Abafana Base Zola
Umfazi ufuna uThando
Uyadelela
Khonabalambile (Interlude
Ratlala 2005
Bang' Biza Bani
Lilizela
Mawune Kwali
Puff n' P***
Guqangamadolo Dub
Bang Biza Bani
Gali Gali
Amajimbos
Sammie Heavens – Biography, Age, Real Name, Boyfriend & Net Worth
Mzekezeke Awards
2003: Artist of the year at the South African Music
2003: Song of the year at the South African Music
Mzekezeke News
Mzekezeke denies claims that he's DJ Sbu
Source: Channel24.co.za
The iconic faceless man behind the mask, Mzekezeke has always been known to be DJ Sbu, real name, Sbusiso Leope amongst fans. The two continue to deny the claims and insist that they are two different individuals. To prove fans wrong, the Massiv Metro deejay interviewed the kwaito star for the first time on his breakfast show.
Move! caught up with the kwaito artist, and still spotting his iconic look, Mzekezeke insists that the deejay is his business associate. He explains that the two met mid-year this year after his 10-year music break. The artists co-own Mzekezeke Music, and they've already signed three new artists including Brown Dash's son, DJ Lindesh.
"People argue that DJ Sbu and I have similar voices, but that doesn't bother me. We are business partners and that's why I'm helping him promote Mofaya.
We are both passionate about supporting local products," says Mzekezeke.
The kwaito legend shares that his taxi business kept him busy during the 10-year break away from the limelight. The star's first performance was in Venda during the Royal Garden Festival, and fans went wild when he got on stage. The artist says Mzekezeke is going nowhere and says the faceless man will live years to come, even after he's gone.
"The truth is anyone can be Mzekezeke. And just like a fictional superhero, there will be someone to carry my character's legacy to the next generation. I'm more than an artist," he says.
The faceless artist has been busy lately, he has recently released a new song featuring Siya Shezi called Nay Lento and he promises to release two more singles before the end of this month.
The taxi owner is giving away R 5 000 every week, until the end of this year, but there's a hook. Fans need to post a video of themselves dancing to Nay Lento with a MoFaya drink.
SHARE THIS POST WITH OTHERS:
Tags: Mzekezeke Age Mzekezeke Songs Mzekezeke Awards Mzekezeke News Mzekezeke denies claims that he's DJ Sbu