Open University of Tanzania (OUT) Postgraduate Admission Regulations: Here are the Open University of Tanzania (OUT) Postgraduate Admission Regulations.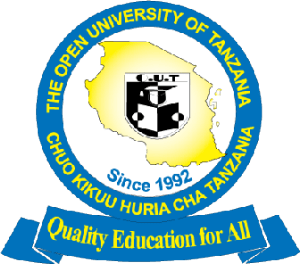 ONLINE ADMISSION PROCEDURES AT THE OPEN UNIVERSITY OF TANZANIA
A graduate program you are applying for may have specific requirements, which is not presented here. Kindly see the details regarding the programmes of your choice at the Open University and related issues in our current University Prospectus, which is available on our website www.out.ac.tz or at the OUT Centre closest to you. All the same, the general admission procedures are hereunder.
Visit OUT online application portal through link: http://library.out.ac.tz:8090/index.php/registration
Fill your online application according to instructions given in the following links: http://library.out.ac.tz:8090/uploads/stepbystep.pdfhttps://www.youtube.com/watch?v=zPFOffP02c0
Submit your application and allow us time to review the application.
If your application is successful after our review, we will send you an admission letter in the email you filled in your online application form please ensure that your email is correct and is functioning.
The admission letter has contacts details of the personnel whom you can contact for more information (e.g. how to register? When does the programme start? etc.). The immediate contact person is the PROGRAMME COORDINATOR.
GUIDELINES FOR PREPARING A TENTATIVE RESEARCH PROPOSAL FOR REGISTRATION TO A MASTER DEGREE BY THESIS OR A PhD DEGREE
Title: The applicant should give a clear title of the research topic that will be the basis for deciding on the Faculty in which the research will be conducted and guiding the faculty on the search for supervisor(s).
A Brief Statement of the Research Problem. Under this heading, the applicant should outline the research problem, giving the background to it, and its significance.
Brief Literature Review. The applicant should also give a brief review presenting the principal literature on the problem area i.e. what has been done on the research problem. He/she should list the preliminary references cited in the text of the statement or tentative research proposal. Authors names should be according to agreed conventions.
Research Objectives. The applicant should show the principal objectives of the intended research, outline what gaps of knowledge will be filled through the research, and what advances will be made when the research plan is executed. Provisional hypotheses should be presented if already formulated.
Research Methodology. The applicant should briefly indicate the instruments to be used and methods to be adopted in carrying out research.
NOTE:These guidelines are only for those applying for a degree program done purely by thesis (research) without any course work.