Sokoine University Of Agriculture SUA Short Courses on Environmental Assessment of Value Chains (28-30 JAN, 2019).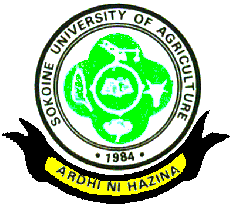 Sokoine University Of Agriculture School of Agricultural Economics and Business Studies
THE BSU III – AVC PROJECT
VENUE: School of Agricultural Economics and Business Studies (SAEBS) Computer Room, SUA, Morogoro
COURSE DESCRIPTION
The purpose of the course is to provide decision makers and agribusiness managers with basic knowledge on quantitative environmental sustainability assessment, life cycle assessment and life cycle management. The course will enable decision makers and agribusiness managers to interpret and relate to environmental performance assessment of agribusiness products, services and value chains. The course is split up in 3 parts: Introduction to quantitative sustainability assessment of agribusiness value chains, introduction to life cycle assessment and introduction to life cycle management. Teaching of the individual topics is supported by exercises and a case study.
LEARNING OBJECTIVES
Upon successful completion of this course, trainees should be able to:
Understand a life cycle assessment of agricultural products, service or value chains
Know what kind of data an LCA demands
Apply life cycle thinking when evaluating the environmental performance of agricultural products, services and value chains.
Identify potential environmental hotspots in a agricultural product system or value chain
MODE OF DELIVERY
The course consists of lectures, group exercises and cases.
PARTICIPATION FEES
The participatión fee is Tshs 50,000/= which covers training handouts, breakfast, lunch, and evening tea. Participants will cover their own travel and accommodation expenses.
FACILITATOR(S)
Morten Birkved (Professor, MSO SDU Life Cycle Engineering, Denmark)
WHO SHOULD ATTEND?
Agricultural Value Chain actors and stakeholders. Postgraduate students are also highly encouraged to apply and attend.
CERTIFICATES
Certificates of attendance will be issued to all workshop participants
APPLICATION
Interested participants should pay fee before 20th January, 2019 through the bank account provided hereunder
Bank: CRDB
Account Names: AB-CONSULT
Account Number: 0150358085700
REGISTRATION CONTACT
Dr. Joseph Longo
+255 744 431 25
Email: [email protected]