University of Bagamoyo Graduates And Finalists | The University of Bagamoyo, UoB Graduates And Finalists of 2017/2018 notice.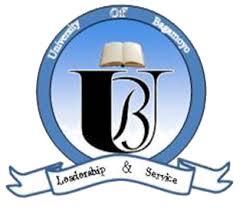 As directed by the Tanzania Commission for Universities Ref. AB.4/324/26/67 and deliberated upon by the University of Bagamoyo SENATE. The University of Bagamoyo regrets to make the following announcement involving some students who graduated at the 5th Graduation Ceremony on 29th January, 2018 and some current finalist students who were in Second Year during the 2016/2017 academic year that:
1. The graduates who did the here below stated courses (VC has referred to them as subjects but I think they are courses under particular bachelor degree programmes) have their awards revoked. They are required to sit afresh for here below stated courses as scheduled.
List of courses per Colleges:
College of Science Informatics and Built Environment
i.     SCS 3122- Visual Basic programming
ii.    SIT 3111- Multimedia Systems
iii.   SIT 3121- Internet Security
iv.   SIT 3123- Mobile Programming
v.    SGI 3123- Advanced Remote Sensing.
vi.   SGI 3124- Geo-information Technology in Climate Change Applications
vii.  BIO 3121- Virology and Microbial Genetics.
viii.  BIO 3120- Anatomy of Angiosperms.
ix.   BIO3228- Plant Ecology and Phytogeography
x.    CHE3124- Organometallic Chemistry
xi.   CHE3216- Fuel Chemistry and Technology
College of Law
i.  LWL 3223- Information Communication Law
ii. LWL 3224 – Social Security Law
Time scheduled for re-sitting:
20-25/08/2018
2. The undergraduates (2016/2017 Second Year now finalists) List of courses as per Colleges:
College of Science Informatics and Built Environment [COSIBE]
i.     SCS 2221- Operating System
ii.     SIT 2111- Computer Networks
iii.    SCS 2121- Object Oriented Programming
iv.    SGI 2121- Spatial Data Analysis and Modeling in GIS. v. SGI 2124- Digital Photogrammetry
vi.    BIO 2228-Plant physiology II
vii.   BIO2229- Molecular Biology
viii.  CHE 2124 – Chemical kinetics and catalysis
ix.    CHE 2125 – Organic chemistry-II
Time scheduled for re-sitting:
Issued by: Secretary to Senate
Office of the Deputy Vice Chancellor for Academic and Research
University of Bagamoyo