University of Zimbabwe Graduation Ceremony Schedule.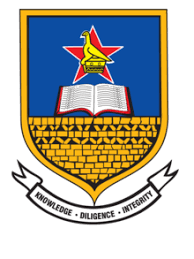 The University of Zimbabwe wishes to inform all graduands, their families and the nation that the previously deferred 2018 University of Zimbabwe Graduation Ceremony has been rescheduled as follows:
DATE AND VENUE
The Ceremony will now be held on Wednesday 10 October 2018 at the UZ Athletics Stadium. Graduands and their guests are required to be seated by 0800 hours.
PURCHASE OF ACADEMIC DRESS
Academic dress is available from the Factory (BH073) to the east of the Faculty of Veterinary Science after payment of a $75 graduation fee.
ADMISSION TICKETS
Admission to the Graduation venue will be strictly by TICKETS ONLY.  New admission tickets will be issued to all VIP guests as well as all graduands and their guests. Please note that invitation tickets previously issued out are no longer valid. The new Graduand and Guest tickets are available for collection from Faculty Offices up to the close of business on Tuesday, 9 October 2018, while VIP invitation tickets will be delivered to all VIP guests. Only Graduands and Guests with invitation cards will be allowed to enter the University Campus and the Graduation venue.
PHOTOGRAPHS
Except for the authorised University of Zimbabwe Photographers, no other photographer will be allowed entry into the stadium. All Guests and Graduands are strongly advised not to bring cameras or photographic equipment into the Graduation venue.
REHEARSALS
Rehearsals will be held on Tuesday 9 October 2018 starting at 1415 hours at the Athletics Stadium.
ACCREDITATION OF JOURNALISTS
The accreditation of journalists will be held on Friday, 5 October 2018, starting at 1000 hours at the University of Zimbabwe Photographic Unit, behind and to the west of the Central Administration Building
DANIEL CHIHOMBORI
DIRECTOR, INFORMATION AND PUBLIC RELATIONS
Inserted by the Information and Public Relations Office, University of Zimbabwe, P O Box MP167, Mount Pleasant, Harare.  Telephone: 303211 Ext. 11334/11159; E-mail: [email protected].