Vusi Mahlasela Biography, Age, Songs & Awards
Vusi Mahlasela whose full name is Vusi Sidney Mahlasela Ka Zwane is a Sotho South African singer and songwriter born in 1965 in Pretoria South Africa.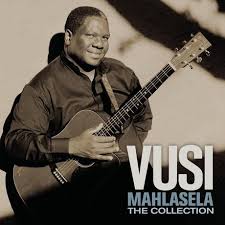 Vusi Mahlasela Songs
Silang Mabele
Say Africa
When You Come Back
Thula Mama
River Jordan
Tonkana
Woza
Ubuhle Bomhlaba
Basimanyana
Red Song
Melodi ya Mamelodi
Amdokwe
A Prayer For Our Time
Sleep tight Margaret
Ntate Mahlasela
Ntombi Mbali
Sometimes You Can't Make It on Your Own
Kuyobanjani Na?
Emtini Wababe
Our Sand
Tibidi Waka
Jabula
Tswang Tswang Tswang
Conjecture of the Hour
Sower of Words
Chamber of Justice
Mamelodi
When You Come Back, Nakupenda Africa
Kolozwana
Heaven in My Heart
Song for Thandi
Mayibuye
Vusi Mahlasela Awards
2012: He received a lifetime achievement award at the SAMA Awards.
Vusi Mahlasela Video
Vusi Mahlasela News
Musician Vusi Mahlasela receives honorary doctorate from UKZN
Source: iol.co.za
Durban – Musician Vusi Mahlasela was awarded an honorary doctorate of music from the University of KwaZulu-Natal yesterday in recognition of his contribution to society and the global music industry.
In his acceptance speech, Mahlasela called on all South Africans including government, academia and business to invest in and support the arts in a sustained, tangible and substantive manner.
"Indeed, music is the food of love. Music excites the body. Music nourishes the soul. But, is music capable of doing these in our country, South Africa, considered the most unequal society in the world?
"How is it possible for music to do all these if artists themselves die of hunger and exploitation," said Mahlasela.
Always the activist, Mahlasela further highlighted the South African Broadcasting Corporation's (SABC) decision to impose a cut-off date for back payment of needle-time play of music on its channels to 2014.
"Is it not too late for the galaxy of musicians who were exploited throughout their careers and died before the cut-off period to enjoy the fruits of their craft? Why the cut-off date in the first instance? What informs it? What's going to happen to the royalties of the period before this?" he said.
The accomplished guitarist, percussionist, composer, arranger, bandleader, and performer's music was in the early days informed by his experiences during the apartheid era and later his music evolved embracing the theme of forgiveness and reconciliation.
"An inspiration to the anti-apartheid movement, his songs became anthems, and he remains one of South Africa's foremost songwriters," cited UKZN during the ceremony.
In 2005 Mahlasela contributed six songs to the soundtrack of the award-winning movie, 'Tsotsi' and not only did he perform at  Nelson Mandela's presidential inauguration but also at his 90th birthday concert.
The artist who once wrote songs on pieces of toilet paper while in solitary confinement, performed in shows across the world and shared the stage with the likes of Sting, Josh Groban, the Dave Matthews Band, Paul Simon and many others.
That's all regarding the Biography of Vusi Mahlasela, kindly Drop a Comment below and we will respond to it as soon as possible.
SHARE THIS POST WITH OTHERS:
Tags: Vusi Mahlasela Songs Vusi Mahlasela Awards Vusi Mahlasela Video Vusi Mahlasela News Musician Vusi Mahlasela receives honorary doctorate from UKZN