Download z83 Form PDF & Word 2023/2024 | Download Official Z83 Application Form Online, Z83 Form Download in PDF and Word (.doc), Z83 Employment Form is for South Africa Government Departments (National and Provincial).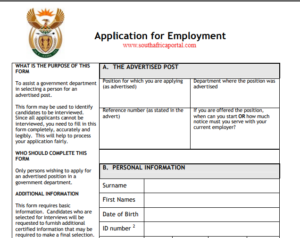 The Z83 Form 2023/2024 for Employment Application has been successfully uploaded online and available for Download and Printed in PDF and Word (.DOC) formats. A Print version of the Z83 Forms is also available free of charge at every Government Department in All 9 Provinces of South Africa.
WHAT IS THE PURPOSE OF THIS FORM
To assist a government department in selecting a person for an advertised post.
This form may be used to identify candidates to be interviewed.
Since all applicants cannot be interviewed, you need to fill in this form completely, accurately and legibly. This will help to process your application fairly
How to Download Z83 Form for Employment Application
You can download it below in any format you need.
Download Z83 Form PDF
Click here to download Z83 form in PDF.
Download Z83 Form (Word Doc)
Click here to download Z83 form in Word Document.
Share This Article With Others.
Tags: Download Z83 Form for Employment Application, Z83 Form Word & PDF Download