TKZee: Biography of TKZee, Members, Songs, Album, Awards
TKZee is a South African kwaito music group that gained its popularity in late 1997 and early 1998 with their hit singles Palafala and Shibobo. The group comprises of Tokollo Tshabalala, Kabelo Mabalane, and Zwai Bala.
TKZee released their first full album in 1998 titled 'Halloween' which became a huge hit with smash singles "Dlala Mapansula" "Mambotjie" & "We Love This Place". The group in collaboration with Bafana Bafana and then Benni Mc Carthy produced Shibobo in June 1998.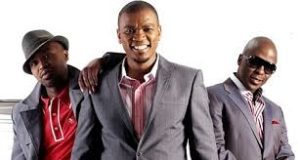 At the opening ceremony of the 2010 FIFA World Cup at Soccer City (FNB Stadium) in Johannesburg, they performed their hit single Shibobo.
TKZee Songs
Dlala Mapantsula
Shibobo
Palafala
Mambotjie
Masimbela
We Love This Place
Fella Kae
Izinja Zam
Bona Senzani
Game On
Fiasco
Shibobo Final Countdown
Guz
Sikelela
Ibola Lethu
Come Outro
Ndinxaniwe
Guz
Delela
Shibobo
Take It Eezy
Girl Without a Name
Gcwal'Iganga
Happy Summer Song
Mr& Mrs. Fake
My Boyz
Magesh
Ibola Lethu
Brotherly Sisterly Love
It's My Party
Ghetto Children
The World Is Mine
TKZee Albums
1996: Take It Eazy
1997: "Phalafala"
1998: Shibobo
1998: Halloween
1999: Guz 2001 (TKZee family)
2002: Trinity
2004 Guz hits
2009 Coming Home
TKZee Awards
Best Kwaito Album 'Halloween' at South African Music Awards
Best Duo/Group at South African Music Awards.
Best Single at South African Music Awards.
Best Kwaito Single at South African Music Awards.
TKZee Video
TKZee News
TKZee celebrates 20-years anniversary
Source: Channel24.co.za
It's been two decades since kwaito group TKZee released their Halloween album, which spawned the smash hits Dlala Mapantsula and Mambotjie.
The 90s group was formed by actor Kabelo Mabalane, musician Zwai Bala and Tokollo Tshabalala. Zwai shared a clip on Instagram from one of their hits in celebration of the 20-year anniversary.
"Today 20 years ago, TKZee released this classic album. We are deeply humbled to have been an integral part of Africa's cultural evolution. Happy days are here again. Hola 7 for life!" he captioned the post.
SHARE THIS POST WITH OTHERS:
Tags: TKZee Songs TKZee Albums TKZee Awards TKZee Video TKZee News TKZee celebrates 20-years anniversary